In more than 30 years on the market, this year became the first year when Frends hosted its first-ever "Best Partner of the Year" award ceremony. A to-be annual award to celebrate the vast network of Frends Partners across Europe. For the past year, Frends partners have been showing remarkable results in building agile and best-of-breed solutions and bringing immense value to their customers and end-users.
"Selecting the winner was a challenging yet rewarding task to have. All our partners have presented excellent results in growth and project deliveries. This year, the competition turned out to be very tight, as only 1 point separated the first and second places," shares Jukka Rautio, Director of Frends.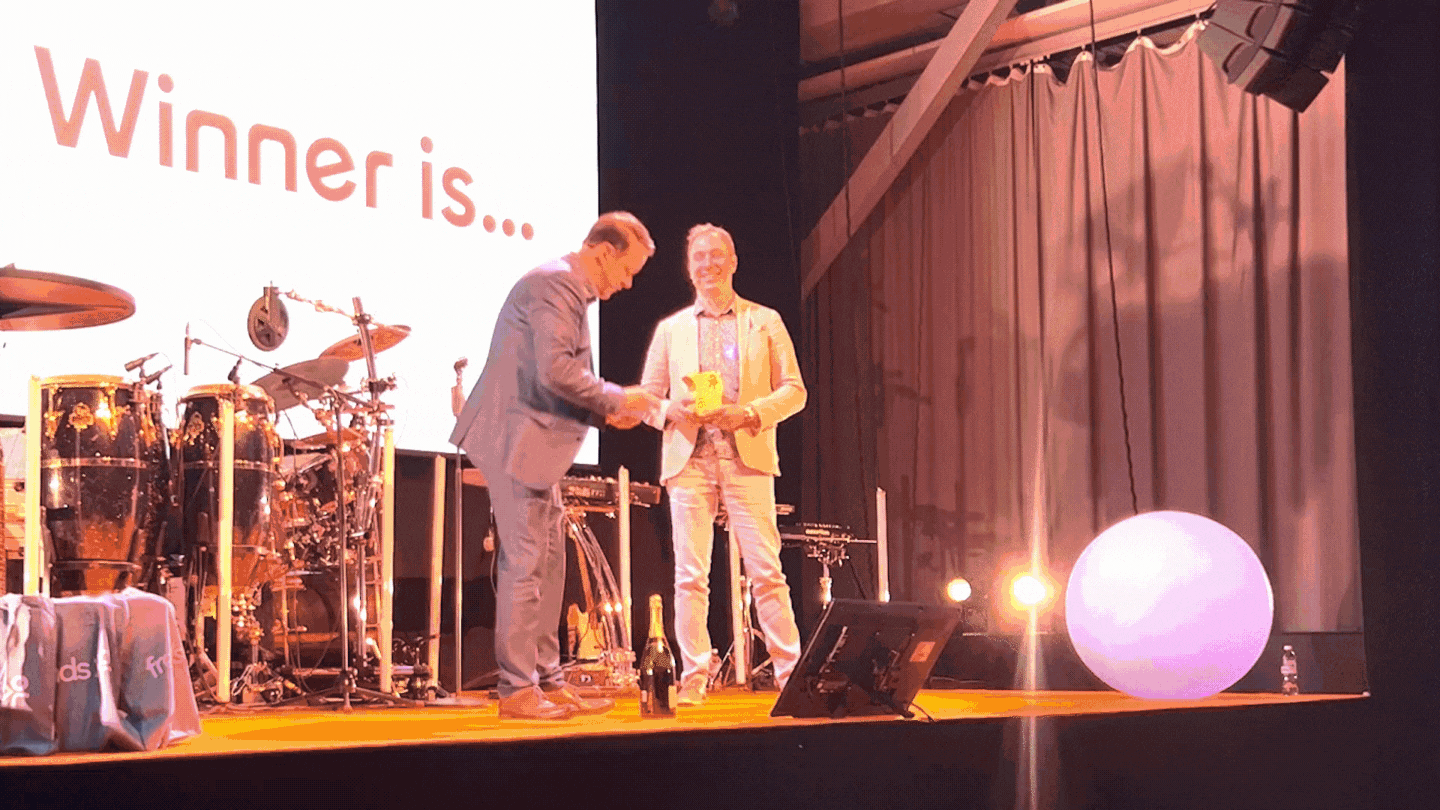 During a 300-guest event in the heart of Helsinki, Frends' Director Jukka Rautio and the Head of Global Partnership, Juha Moisio, announced the winner: Visma Connect from the Netherlands became the Best Frends Partner of the Year 2021. Kees-Jan Schurink, Business Unit Manager - Custom Solutions, and Raman Hossain, Product Owner, Connection Integration at Visma Connect, accepted the award on stage.
"We very much appreciate being here today. We value our partnership and the work we do together with Frends. We are looking forward to the future and what we can do in the area of sustainability together with integrations," shares Kees-Jan Schurink.
From left to right: Jukka Rautio, Juha Moisio, Kees-Jan Schurink, Raman Hossain.
The Frends Partner team congratulates Visma Connect on this achievement and looks forward to many more years of successful cooperation and innovative collaborations in many areas.
We would also like to recognize and especially thank the award finalists: Efecte, Jeeves ERP, Lining, and Vaimo, true technology visionaries!
About the winner
Visma in the Netherlands consists of 30+ modern technology companies that develop, sell and support business-critical cloud software for business, public sector, education, healthcare, and social organizations. Every company has its expertise, culture, and working method. One of those is Visma Connect.
Visma Connect is the utility company of the digital society. Visma Connect enables a sustainable society by simplifying and automating trustworthy accountability reporting. Visma Connect has been working for governments, supervisory authorities, and companies since 2006 to ensure secure, accurate, correct, and timely reporting of their most important and valuable information. Learn more: https://www.visma.nl/connect/
About the finalists
Efecte is the European alternative in Service Management. Efecte helps service organizations digitalize and automate their work. Customers across Europe leverage Efecte's cloud service to operate with greater agility, improve end-users' experience, and save costs. The use cases for Efecte's solutions range from IT service management (ITSM) and ticketing to improving employee experiences, business workflows, and customer service. Learn more: https://www.efecte.com
Jeeves ERP is the number-one Swedish-made ERP software solution for companies in the midmarket. Jeeves serves more than 700 customers spread throughout the Nordics and worldwide. Customers operate within a variety of vertical markets, including plastics, life sciences, machinery, chemicals, food & beverage, wholesale distribution, project-based manufacturing, and metals, to name a few. Learn more: https://www.jeeveserp.com
Lining is a utility and water management technology company, specializes in technical solutions for clean and wastewater lines and plants. The company is part of the Indutrade Group, operating in thirteen European countries. For more than 60 years, Lining has been a leading supplier of Finnish water supply. Lining's work has been based on reliability, efficiency, and innovation. Today Lining is the market leader in the industry, with a market share of more than 50%. Learn more: https://www.lining.fi
Vaimo is one of the world's most respected experts in digital commerce. As a full-service omnichannel agency, Vaimo delivers digital enablement, customer experience design, solution development, and managed services to brands, retailers, and manufacturers worldwide. Their sharp focus, broad experience, and deep expertise within B2B, B2C, D2C, PIM, headless commerce, mobile apps, integrations, and security make them a key partner for driving success in digital commerce. With local offices in 15+ markets across EMEA, APAC, and North America and over 500 employees, they provide an international presence that allows them to cultivate close, long-term relationships with merchants. Learn more: https://www.vaimo.com